This is the fourth version of a Best Mac Solutions website. I've been empowering my clients and keeping their Macs humming for 24 years, and I've been working with some of you for just about that long. Thanks for your continuing business. Some who are reading this right now have never engaged my services and I hope to meet you soon. If you're in the Boulder area, or nearby, perhaps we'll meet in person. If you're farther afield maybe we'll talk and see if there's a way I can help you be more productive and keep your Mac running well.
I started building websites in 1998 and I built the first BMS website in 2003, revised it in 2007, again in 2013 and I've just finished my 4th revision, that you're visiting right now.
I hope that you find this site easy to use, searchable, full of useful information and a fun place to learn new stuff (even when I harp on backups and strong passwords).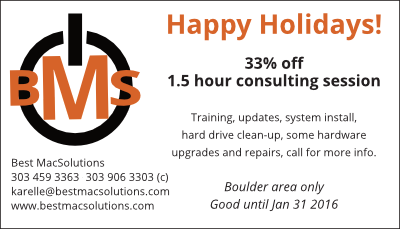 In honor both of the season and my new website, please download a coupon for your use in the next couple of months.
Sign up for the BMS newsletter and receive other offers and LOTS of information.
I hope to see you soon.